Shopping Cart
Your Cart is Empty
There was an error with PayPal
Click here to try again
Thank you for your business!
You should be receiving an order confirmation from Paypal shortly.
Exit Shopping Cart
Thrills, Chills and Spiritual Ordeals!​
| | |
| --- | --- |
| Posted by EHancock2 on April 10, 2016 at 1:15 PM | |
So, it's April. I last blogged in AUGUST? Yikes! My apologies. When trying to build my online presence, I've been paying attention to Facebook, Twitter, LinkedIn and Instagram while ignoring my own website!
Bad Eddie! Bad Bad boy! Okay I promise to try and do better from here!

As you can see, if you do a simple internet search, I've been very busy building things in my life. I really wish I could reveal everything going on behind the scenes, but there are still a few ducks to get in a row before I can tell you what I am DYING to tell you.
What I can say is that I am now the proud owner of Final Draft 9 software, meaning the process of putting Mourning Reign (and the rest of the MENDEZ SERIES) into screeplay/script format is going to move forward. (This should not be read as I have a movie deal.) 

If you're on twitter, please be sure to follow me @EdwardHancockII. I regularly try to tweet relevant things, whether that be writing-related, history or government or even the occasional God thing. Fair Warning, As with my main facebook page, I do not hide my personal beliefs. I put them out there for all the world to see. I know, it's probably a dangerous thing. It's like the comedian said, " I had the right to remain silent. I lacked the ability." LOL!
That being said, I have a project I want to share with you. First, I hope you will follow me on Twitter as I asked above. If you do, you will find a common hashtag.
Anytime I post a tweet related to my writing or my books or the series, I use #MendezSeries to group the text together and make the tweets easier to find.
As more and more people discover the Mendez Series, the hastag is gaining increasing momentum on twitter (and more recently on Instagram.)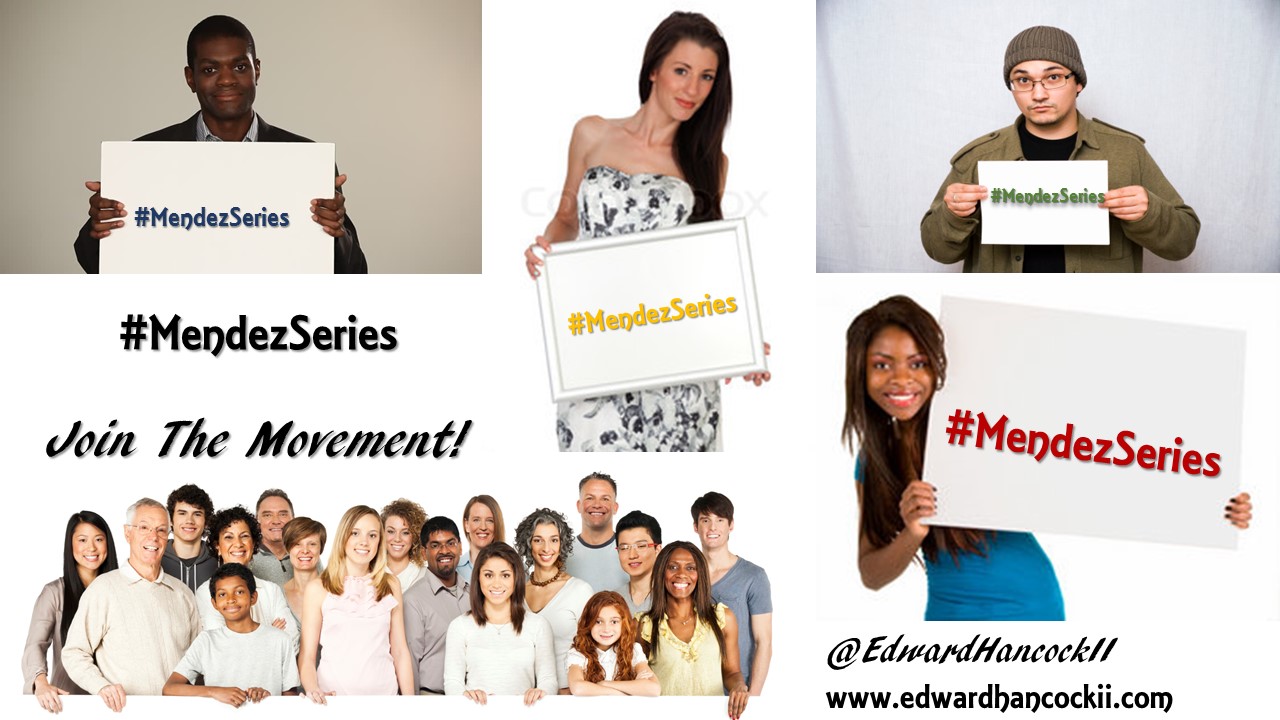 Fans, I need you! I need you to show your Mendez Series support! I need you to join the movement and become a part of this growing phenomenon! I need you to tell others about the books and I need you to do it in a very specific way. It's very simple! All you have to do is take a picture of yourself holding a sign like the ones represented above. Just a very simple piece of paper or cardboard or posterboard with #MendezSeries posted on it! It's that simple! Then I will share your pictures to Facebook, Twitter, Instagram and, together, we will show others what they are missing!
As readers of the Mendez Series, you are a part of the E-Lister Nation! Show your Mendez Pride and take a picture of yourself holding a sign like the one above. It can be handwritten or printed on a computer with fancy fonts and what not. Doesn't really matter, so long as the hashtag is clearly visible (and legible!). You can take pictures at the airport, using your cell phone, or take a trip to a photography studio and include this shot in your package. (Although, let's be honest, that's a tad bit overkill! LOL!) You can do it right in your kitchen or in your car or in your front yard with your dog on your lap! (Hey, I dig dogs!)
Did you get your boss or co-worker to try a Mendez Series book? Hey, take a picture together! (or of each of you. Whatever you choose!) There really are few rules to how this can be done!
Step up, Mendez Family! Rise to the occasion, E-lister Nation!
#JoinTheMovement!
Till next time, this blog is brought to you by the letters W, E and H and by the number 2.

Categories: None
/