Shopping Cart
Your Cart is Empty
There was an error with PayPal
Click here to try again
Thank you for your business!
You should be receiving an order confirmation from Paypal shortly.
Exit Shopping Cart
Thrills, Chills and Spiritual Ordeals!​
| | |
| --- | --- |
| Posted by EHancock2 on March 3, 2014 at 7:00 AM | |
For this blog, I decided to start something new. In my life, I am blessed to call a number of very talented authors "friend." In an effort to share their talents with the world, I have decided to let a few of them take the reins here at Edward Central and introduce you to not only to themself but to their characters and stories as well.
First up, C.L. Parks. She recently sat down with her characters,  Jason Longknife and Teena Massey, to discuss her new release, "She Who Hunts", which hits the market TODAY!
It's not every day that authors are willing to give us this very special look into their stories, but there's no one better suited to interview the players of a grand tale than the author. So, without further ado, take it away, Ms. Parks!
CLP -- Thanks, Eddie! Today we have Tenna Massey and Jason Longknife from She WhoHunts joining us. Thank you both for taking time out of your day to talk with us.
Jason – You're welcome.
Tenna – We only have a few minutes.
CLP -- I'm sorry, I understand. I guess nowadays your job must keep you pretty crazy.
Tenna --  *snorts* Yeah, you can say that.
CLP -- I've heard that you two can usually identify who is possessed rather than who is just evil on their own. I've watched the news a lot and I can't tell the difference. How do you know when someone has been possessed?
Tenna – You mean other than the fact that they're slaughtering and eating humans?
CLP -- Uh, yeah. I guess other than that.
Jason – I can smell them, she can feel them.
CLP -- Jason, you don't say much, do you?
Jason – No.
Tenna – He gets by on his good looks.
*interviewer laughs*

CLP -- I can see that. Is that what made you fall for him, Tenna?
Tenna – Do we really need to get into our relationship right now?
CLP -- Did I hit a sore spot?
Jason – We'd just rather people not know about us. Makes us too vulnerable.
CLP -- Oh, sorry. Okay, we'll go back to possessions then. You said once the only way to get rid of a demon is by killing the human it lives in.Why couldn't you just call a priest or exorcist?
*both laugh*
Tenna – Because we don't live in a movie. Look, the only way to—
Jason – Tenna.
Tenna – They're going to read about it anyway, so relax. The only way to kill a demon and release the human soul is by pushing a sword blessed by the Church through the human host's heart. Yeah, the human dies, but it's no longer suffering at the hands of the demon.
CLP -- What about your husband, Paul?
Jason – She'll do what she has to do.
CLP -- Tenna, you look like I made you mad.
Tenna – How would you feel if I asked you if you were going to kill someone you loved or let them burn in Hell? Not a fun question, is it? I'll do what I have to do when the time comes.
Jason – And if she falters I'll be right there with her to finish the job.
CLP -- So you are going to kill Paul.
Tenna – I got to go. Interview's over. Thanks for having us here.
CLP -- I'm sorry I angered you both, but thank you so much for answering our questions. Tenna and Jason's story, She Who Hunts, is out today, March 3, 2014. Check it out to see whether Tenna is able to follow through, and whether or not they're able to stop him in time.
About the Author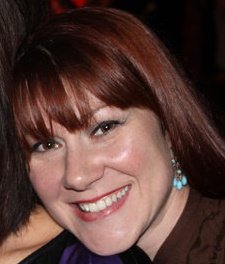 C.L. Parks has had a passion for writing since reading Charlotte's Web in kindergarten. After rewriting the ending to gift Charlotte with immortal life she became obsessed. After reading Stephen King in fifth grade, her tastes quickly moved from sweet and innocent to the supernatural. Since the moment she picked up Pet Semetary she devoured every supernatural and preternatural book she could get her hands on by authors ranging from Anne Rice to Stephanie Rowe.

When not fully engulfed in her newest novel you can find her corralling her chickens, playing with her dogs, spoiling her large lizard or sewing a new vintage inspired dress. Her dream is to travel the country in an RV with her husband while writing more books…after the kids have gone on to college, of course.




And, I want to say one last THANK YOU to C.L. Parks as well as Teena and Jason. It's always rough to sit down and be open about your struggles, but I think it's safe to say we will all look forward to reading this new release!

Until NEXT TIME, this blog is brought to you by the letters W, E and H and by the number 2, in partnership with the letters C, L and P.


 

 




Categories: None

0

/